"Confessionalization and Reform: The Mkhit'arist Enterprise from Constantinople to Venice, Trieste, and Vienna"
Organized by the Richard Hovannisian Chair of Modern Armenian History at UCLA
With the co-sponsorship of the Narekats'i Chair of Armenian Studies (UCLA),
the National Association for Armenian Studies and Research (NAASR), the USC
Armenian Studies Institute,
and the UCLA Center for Near Eastern Studies (CNES)
December 16-17, 2017
UCLA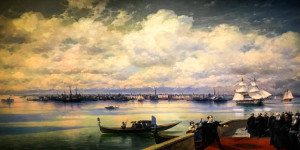 A Conference in memory of Father Sahak Djemjemian and on the Occasion of the
300th Anniversary of the Establishment of the Congregation in Venice
Over the last few decades, historians have come to refer to the period from
the Protestant Reformation in Europe to the late seventeenth century as the
era of "confessionalization."
Confessionalization has come to be understood as a global process marking
the birth of early modern religious revival and reform movements that
affected societies, states, and cultures across Eurasia, including in the
Ottoman and Safavid empires.
This conference seeks to place the birth of the Mkhit'arist congregation of
erudite Catholic-Armenian missionaries and monks within the larger wave of
confessionalization that was sweeping the shores of the Eastern
Mediterranean in the late seventeenth century. Bringing together an
international cast of scholars, the conference commemorates the 300th
anniversary of the establishment of Abbot Mkhit'ar's reformist order on the
island of San Lazzaro in the Venetian lagoon. Scholars will explore and
analyze the pivotal role played by this Order in the remaking of early
modern Armenian confessional and national identity through their
interventions in print culture, Armenology, Armenian lexicography, grammar,
and literary translation.
UCLA Faculty Center, California Room, 16 and 17 December 2017
Program
Saturday, 16 December 2017 (California Room, UCLA Faculty Center) 9:20-10:00am
Opening Remarks: Conference organizers and co-sponsors
Welcome Address: His Excellency Archbishop Levon Zekiyan
Conference Introduction: Sebouh David Aslanian: "Mkhit'ar and His Flock in
the 'Age of Confessionalization'"
10:00-11:30am
Panel 1: Confessionalism, 'Communicatio in Sacris,' and the Mkhit'arist
Congregation
Paulo Lucca (Università Ca' Foscari Venezia): "Neither Fowl nor Fish? The
Venice Branch of the Mkhit'arists and the Roman Hierarchy in the Early
Nineteenth Century"
Cesare Santus (École française de Rome): "Mkhit'ar's Doubts: The Problem of
'Communicatio in Sacris' among the Armenian Catholics in the Ottoman Empire."
Benedetta Contin (Università Ca' Foscari Venezia): "Mkhit'ar and the
Armenian Catholic Patriarchate during the Eighteenth and Nineteenth
Centuries: The Challenge of Mkhitarist Ecumenism"
Coffee Break: 11:30-11:45am 11:45am-1:15pm
Panel 2: Mkhit'ar Sebastats'i, Rome, and Print Culture: Eighteenth-Century
Confessionalization in a Diaspora
Raymond Kévorkian (Paris): "The Origins of the Editorial Vocation of
Mkhit'ar Sebastats'i"
Jesse Arlen (UCLA): "'In Creation of Readerly Taste': Paratextuality in the
'Publishing Mission' of Mkhit'ar of Sebastia"
Anna Sirinian (University of Bologna): "The Birth and the Early Years of
Bazmavep"
Lunch Break: 1:15-2:45pm
2:45-4:15pm
Panel 3: The Mkhit'arists in the East: Trieste, Vienna, and Transylvania:
Sebouh David Aslanian (UCLA): "The Great Schism of 1773: Venice and the
Creation of the Armenian Community of Trieste"
Meline Pehlivanian (Berlin): "The Mkhit'arists' Vienna Branch and the Advent
of German- Speaking Armenology"
Bálint Kovács (Leipzig University): "The Mkhit'arist Missions in Transylvania"
Reception for Presenters: 7:30-8:30pm (Sponsored by NAASR)
8:30-10:30pm (Bridges Theater, UCLA) (Light Refreshments)
Keynote Address (in Armenian)
Krikor Beledian: "Մխիթարեան աւանդութիւնը եւ արեւմտահայ բանաստեղծութիւնը"
(The Mkhit'arist Tradition and Western Armenian Poetics)
Hakop Papazyan (director) and Nver Mnatsakanyan (producer) screening of
Documentary on Oscan Yerevants'i
Sunday, 17 December 2017 (California Room, UCLA Faculty Center)
Lunch: 1:00-3:00pm
3:00-4:30pm
Panel 4: The Mkhit'arist Congregation During Its Nineteen-Century Heyday
S. Peter Cowe (UCLA): "Beauty, Nobility, and Harmony: The Mkhit'arist
Aesthetic in Relation to Ethics and Politics, the Impact of this Nexus on
the Western Armenian Awakening, and its Place in
Eighteenth-Nineteenth-Century Intellectual History"
Hagop Gulludjian (UCLA): "The Mkhit'arist Project and Lessons on Language
Revitalization"
Reverend Vahan Ohanian (San Lazzaro): "Հայր Ղեւոնդ Ալիշանը իր նամակներու
լուսարձակին տակ"
(Father Ghevond Alishan in Light of His Correspondence)
4:30-5:30pm
Panel 5: The Mkhit'arist Manuscript Collection and the Legacy of the Order
during the Twentieth Century:
Gevork Ter Vardanian: "Մխիթարեանց Վենետիկի ձեռագրական հաւաքածուի
կազմաւորումը եւ գիտական մշակումը" (The Formation of the Manuscript
Collection of the Mkhit'arists in Venice and Its Scholarly Development)
Agop Manoukian (Venice and Milan): "The Mkhit'arist Presence in Milan c.
1923-1933 and the Emerging Armenian Community of Italy"
Reception for Presenters: 7:30-8:30pm (Sponsored by NAASR)
8:30-10:30pm (Bridges Theater, UCLA) (Light Refreshments)
Keynote Address (in Armenian)
Marc Nichanian: "1810-1820: հրաշալի տասնամեակ մը» (1810-1820: An Astonishing
Decade)
Hakop Papazyan (director) and Nver Mnatsakanyan (producer) screening of
documentary on Mkhit'ar Sebastats'i