SAS to hold Conference and 41st Annual Meeting-November 21 in Denver
The Society for Armenian Studies
to Hold its 41st Annual Meeting in Denver, Colorado
Conference to be held on "The Impact of the Armenian Genocide"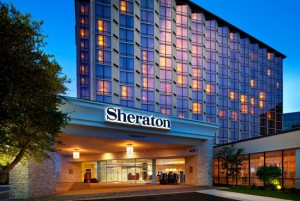 SAS members are invited to participate in the SAS 41st Annual Meeting and to attend a special SAS sponsored Conference.
To mark the 100th Anniversary of the Armenian Genocide, the Society for Armenian Studies (SAS) is planning an international conference, "The Impact of the Armenian Genocide," to take place on Saturday, November 21, 2015, in Denver, Colorado.
The SAS is holding its 41st Annual Meeting Saturday, from 4:00-6:00PM in PL-Director's Row J. The Conference and Meeting will be held in conjunction with the Middle East Studies Association (MESA) Annual Meeting, which bring hundreds of scholars in a variety of disciplines together annually to present papers and to participate in panels.
The SAS organized conference on "The Impact of the Armenian Genocide," will have two panels, beginning at 10:00AM on Saturday, November 21. The conference will be held in PL-Director's Row I of the Denver Downtown Sheraton Hotel and is open to the public.
In the first panel on "The Impact on Society," three participants will present papers: Lerna Ekmekcioglu (Massachusetts Institute of Technology), "When History Became Destiny: Armenians in Post-Genocide Turkey"; Sossie Kasbarian (University of Lancaster, United Kingdom), "The Politics of Memory and Activism: The Armenian Diaspora Facing 2015"; and Hratch Tchilingirian (University of Oxford), "Armenians in Turkey: The Impact of post-Genocide Isolation and (dis)Integration."
In the second panel on "The Impact on Culture," the presenters will be: Talar Chahinian (California State University, Long Beach), "Post-1915 Dispersion Literature and the Figure of the Failed Witness"; Myrna Douzjian (UCLA), "The Ethics of Self-Reflexive Filmmaking; Or, Deconstructing the Genocide Documentary" and Ramela Abbamontian (Los Angeles Pierce College), "The Diasporic Witness: Reconstruction of Testimony by Contemporary Los Angeles Artists."
The SAS is also sponsoring a panel during the regular MESA sessions at 2:00PM on Sunday, November 22, entitled "Towards an Understanding of Identity," chaired by SAS President Barlow Der Mugrdechian (California State University, Fresno), with the participation of Jirair Christianian "Orphaned Armenian Objects in Istanbul: The Patriarchate Museum Collection"; Nora Lessersohn, "Armenian Self and Ottoman Society: Christopher Oscanyan's Oriental and Turkish Museum in London (1853-54)"; and Ron Marchese, "Sociological Implications in Armenian Religious Art in the Late Ottoman Period: Data from the Armenian Churches of Constantinople during the Second Armenian Renaissance-post 1700."
More than twelve other Armenian-themed papers will be given by scholars during the course of the MESA conference, November 22-24. For a full program of MESA sessions, please visit their website at: https://mesana.org/mymesa/meeting_program.php.
SAS Secretariat